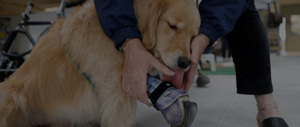 The orignal pet prosthetics company
Animals are born to run, we help them get there.
View All Products
WHY CHOOSE BIONIC PETS?
We are committed to helping all animals regain their mobility, and improving their overall health. This translates into fabricating dog prosthetic legs that are high-quality, durable, and functional.

All of Bionic Pets'prosthetics ensure:
1. A comfortable fit
2. Increased mobility and support
3. A long-term solution
4. Improved pet quality of life
5. Affordability

LEARN MORE
Large Animals
We build large animal devices on a case-by-case basis, and we quote each individually. If you are looking for a product, please contact us with your animal's information and pictures or videos. You can reach us via email, info@bionicpets.org, or through our submissions form.
We have worked with and built prosthetics for animals of all weights and sizes, including large animals. Our experience with big pet prosthetic legs includes cows, horses, and even elephant prosthetics.
Submissions Form
Our Mission at Bionic Pets
We fabricate hand-crafted prosthetics and orthotics at an affordable price. We bring knowledge from the human world to the animal world—one leg at a time. At Bionic Pets, we are committed to helping animals regain their mobility, producing custom-made prostheticsfor animals of all weights and sizes.
Our company produces high-quality products that fit your pal's exact needs. And although we mostly work with dog prosthetics, we have also created pet prosthetic limbsfor other animals like horses, ducks, and even elephants.
Donate
THE WIZARD OF PAWS
Watch Derrick Campana save animals' lives on our tv show, Wizard of Paws. Now available on Disney+, BYUTV, Animal Planet, and Nat Geo.
WATCH NOW
OUR PRODUCTS
At Bionic Pets, we fabricate a wide range of prosthetics and orthotics. All of our products are hand-crafted with high-quality materials. Additionally, all of our pet prosthetic limbsare custom-made to fit your pet's exact needs.
Top-Rated Animal Prosthetics & Orthotics Manufacturer
contact us
Phone: 703-474-6204
Fax: 866-885-8111
info@bionicpets.org
43671 Trade Center Pl Suite 148 Sterling, VA 20166
Hours : Mon - Fri, 9am - 4pm
Sat - Sun, Closed
FAQs
Can I Get a Prosthetic Leg for My Dog?
Yes, at Bionic Pets, we fabricate high-quality, durable, and customized prosthetic legsfor dogs. We provide casting instructions to ensure the prosthetic fits your dog perfectly, and once we have the plaster cast, we design and build a fully tailored prosthetic.
Are Dog Prosthetics Worth It?
Yes, partial and full limb prostheticscan help your dog regain its mobility, increase activity levels, and improve its overall quality of life. Additionally, prosthetics can help with other aspects, such as relieving pain and preventing further deformation and degeneration of other limbs.
Do 3-LeggedDogs Need Prosthetics?
Not all amputee dogs need prosthetics to live a long and healthy life. Additionally, not all of them are candidates for dog prosthetics. Candidacy depends on aspects such as age, weight, and remaining limb conditions. A dog being overweight doesn't disqualify them from being a candidate. However, if they need a full limb prosthetic and to lose significant weight, the owner might have to purchase an additional device after the weight has been lost. Additionally, partial prosthetics require three to four inches of remaining limbbelow the hock or elbow.
What Material Are Our Prosthetics Made of?
Both our partial and full pet prosthetic limbsare made of plastic polymers. This material is both durable and accessible to allow for a high-quality prosthetic that's economical.